Design
Artistry Ink | Web Development
I was contracted to develop this responsive site for Artistry Engraving & Embossing Co., Inc., a small company in Chicago, Illinois. The site is built on the Twitter Bootstrap platform and also utilizes jQuery libraries and custom javascript.
Launch Site
Water Council Informational Video | Motion Graphics
In this concept project, I created an animated informational video on Wisconsin's role in freshwater innovation, using The Water Council as my "client". On their website, The Water Council has a section called "Why Water," listing numerous facts and statistics on this subject. With these figures, I crafted a visual "story" that urges younger viewers (roughly 18-24) to join The Water Council in their mission to solve global water challenges
For this project, I shot video using a Canon T6i as well as a GoPro HERO4 Silver. Animated graphics were first created in Adobe Illustrator and then brought into Adobe After Effects. All effects were composited in Adobe After Effects.
Song: Slow Hours by Weird Inside
View Process Book
UWM Arts + Tech Night Marketing | Print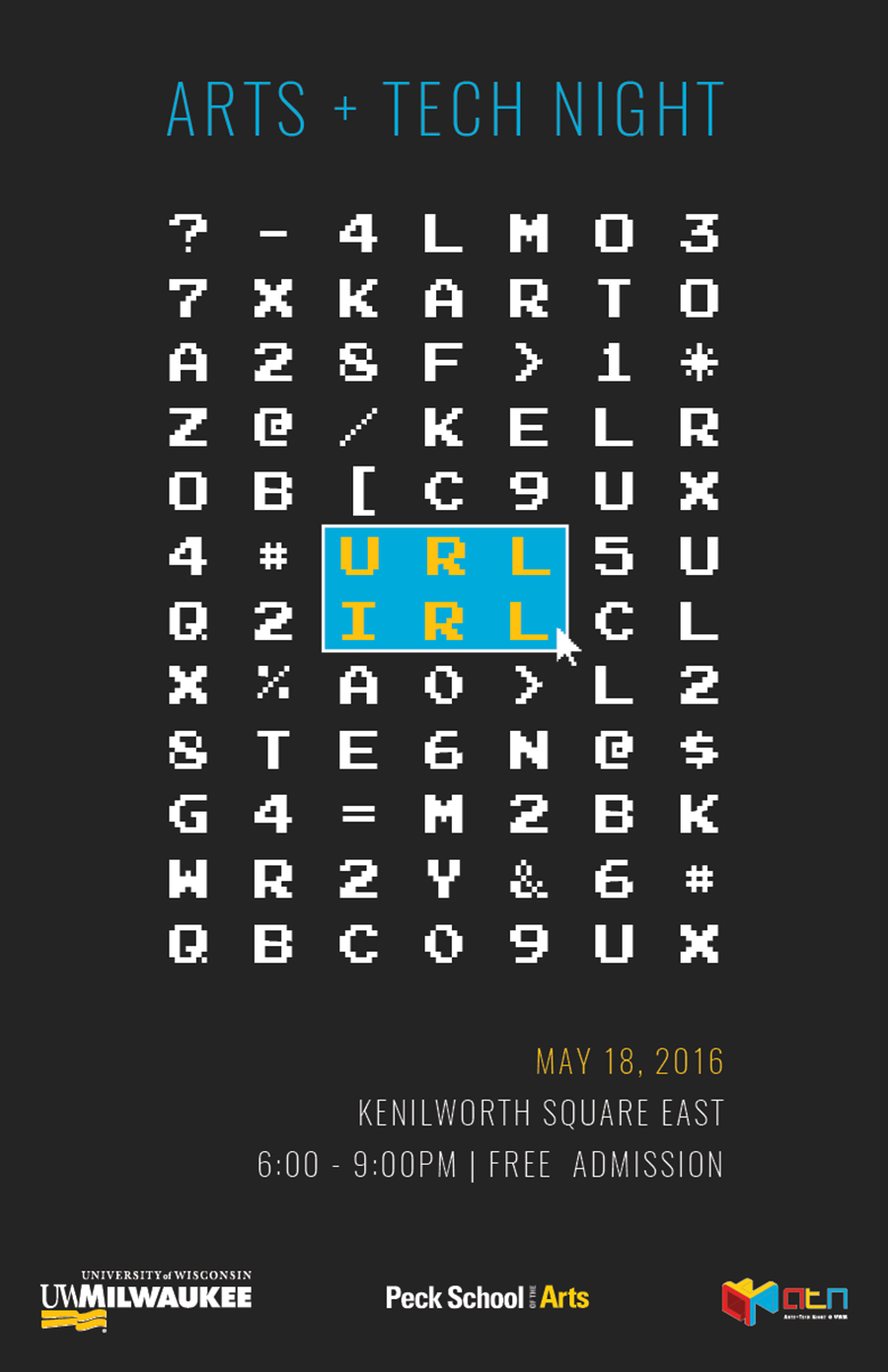 As a member of the UWM Arts + Tech Night planning committee, I was in charge of designing all marketing and promotional materials for the biannual student exhibition. Participating students proposed and voted for the name URL | IRL. While designing, I looked at early bitmap typography and graphics for inspiration.
Dot to Dot | Motion Graphics
I created this concept television opening credits sequence for a fake detective series, Dot to Dot, using Adobe After Effects CC in conjunction with Adobe Photoshop CC.
View Process Book
Digital Studio Practice Booklet | Print
I was commissioned to create this curriculum booklet for the Digital Studio Practice major at UW-Milwaukee. Throughout the design process, I met with the department faculty repeatedly to ensure the booklet would meet their needs and align with the guidelines and goals of the university. I worked with both faculty and students to source and edit appropriate images and text. I wanted the design to reflect the innovation and divergent thinking that characterizes Digital Studio Practice students. The booklet is currently being sent out to prospective students and will be placed on the UWM Art and Design website to promote the major.
View PDF Version
Carousel | Motion Graphics
I created this kinetic typography lyric video to Carousel by Melanie Martinez using Adobe After Effects CC. I used vintage circus posters and paper cutout animations as my inspiration.
View Process Book
The MozzaMaker | Web Design + Brand Development
This website design presents information regarding my business idea for the UW-Milwaukee Student Startup Challenge, for which I was a 2015-2016 winner. My partner Becky Yoshikane and I pitched a tabletop kitchen appliance for making artisanal cheese at home. In the process of creating the website, I finalized decisions around our brand identity. The site is fully responsive utilizing the Bootstrap platform. We plan to use this site as a tool to present our project's progress to stakeholders.
Launch Demo Site
View Process Book
Fluid | Concept Site
Web Design + Brand Development
A complete redesign of the website and branding for a local Milwaukee LGBT+ bar, this concept project was an exercise in learning the Bootstrap platform. I utilized a contemporary rainbow color palette, illustrated icons, and modern fonts to target a younger demographic. The site is fully responsive using the Bootstrap platform, optimized for mobile, tablet, and desktop.
Launch Demo Site
50FOOTWAVE | Concept Site
Web Design
I created this concept website for the American alternative-rock band 50FootWave and, more specifically, their song "Sun Salute." The design takes inspiration from 90s Net Art, with many hypertextual elements and glitching text, mimicking the eccentric and fragmented nature of the band's lyrics.
Launch Demo Site
DECODE | Logo + Brand Development
I created this logo design for the UWM arts and technology student organization Decode, for which I was a co-founder. Using our club's vinyl cutter, we have created hundreds of stickers of our logo as part of a guerrilla marketing effort. We have also used laser cutters to cut our logo in colored acrylic for wall-hangings and freestanding paper weights.
36 Hours in Barcelona | Print
Travel Editorial
For this Typography project, I was given copy from a New York Times travel article written by Ingrid K. Williams and assigned to design a six-page travel spread. I used the typeface Cochin for my body copy and title and Avenir Next for my headlines. My spreads feature a mix of large and small photos from various perspectives, all courtesy of Flickr. The editorial showcases my understanding of grids, typography, and color with images to create clean, professional layouts.
Typographic Specimen: Avenir | Print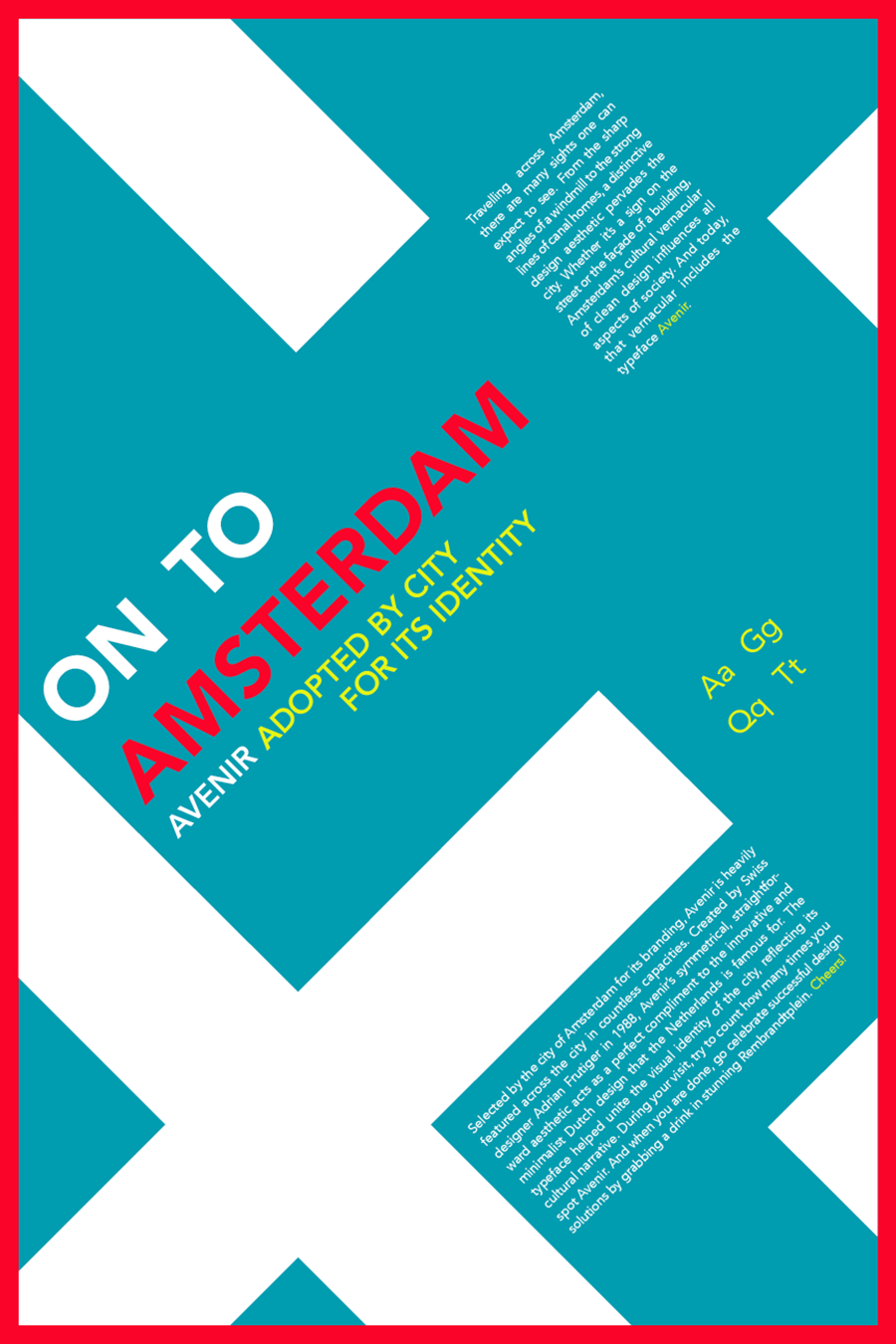 For this Typography project, I researched the typeface Avenir and designed a type specimen poster to educate readers on a specific aspect of the typeface. Based on initial research, I wrote creative copy regarding the use of Avenir in Amsterdam's marketing. I used diagonal elements, including a turned "+" symbol, to create a sense of dynamic movement while also communicating iconography of the city. The modular grid system I used for typesetting and bright color palette are influenced by Dutch advertising. The poster design highlights my understanding of grid systems, ability to write copy, and skill as a visual storyteller.
The Beehive | Print
T-Shirt Design
Created for Threadless, this original t-shirt design highlights my interest in nature, language, and creative wordplay. The design touches on themes that are popular amongst the Threadless community, especially a love for puns. Through the project, I learned about working with Pantone spot colors to understand the printing process. The design showcases my skill in creating complex yet efficient vector illustrations in Adobe Illustrator.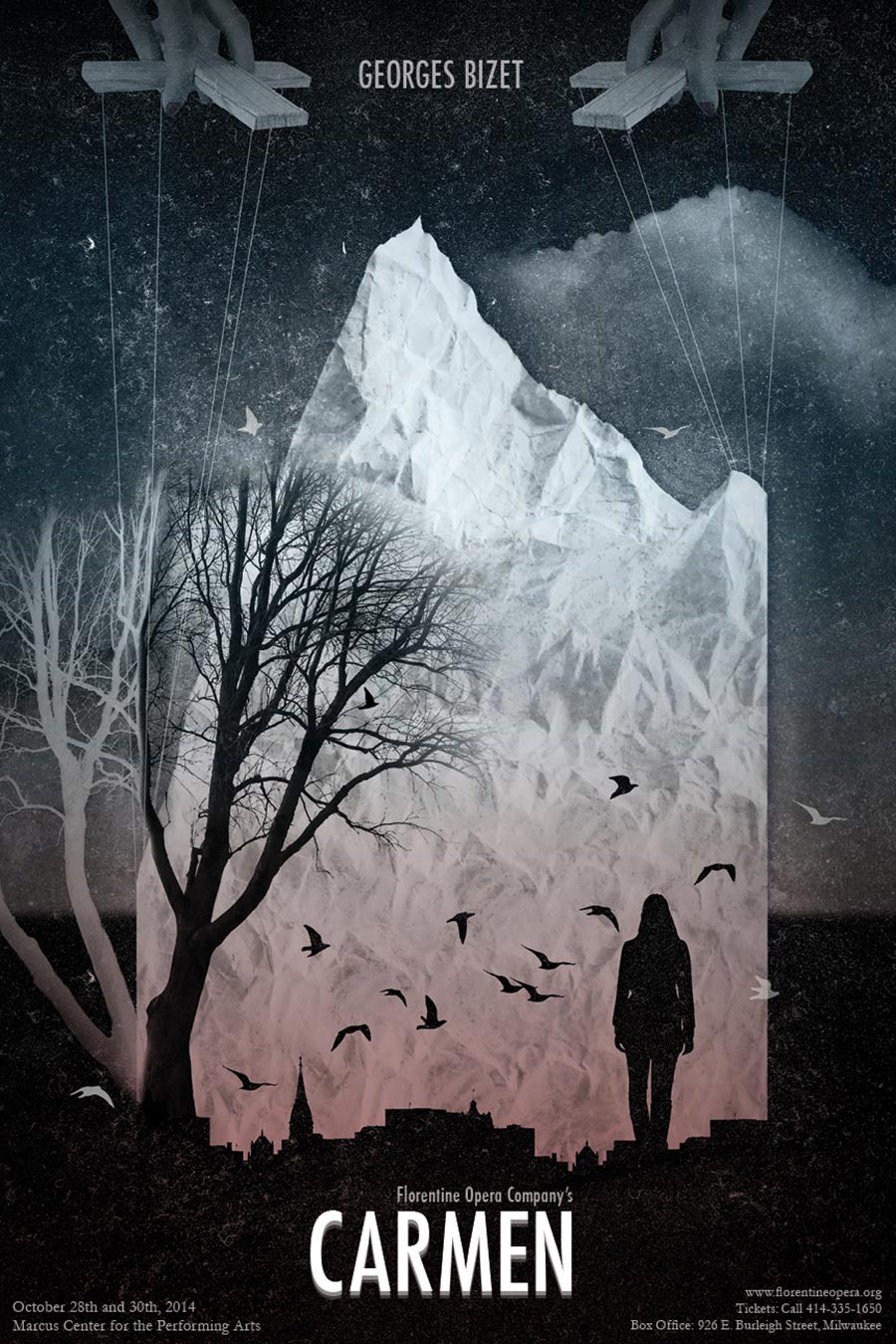 For this project, I created a modernized concept poster for the theatrical production Carmen. Using personally captured photographic images, I created a well-executed, surreal, and dramatic composite based on my research of the story. Allegorical imagery, such as puppeteer hands, portray the themes of Carmen in an unexpected manner. The design has an edge that connects to a younger demographic.
Contact Me
I enjoy using my skills to execute both personal and client-based projects.
Let's grab coffee and build something together.
Get Started