Portfolio
Sendik's Catch the Hatch | Integrated Campaign
Sendik's Catch the Hatch is an annual two-week event in August during which shoppers can reserve roasted or unroasted hatch chiles online from Sendik's for pick up in store. Fresh hatch chiles are grown in the Mesilla Valley of New Mexico and are available for only a few short weeks each year.
For the digital marketing campaign, I was responsible for creating a landing page, email communications, social media ads and short videos. I worked with the Produce and Design teams to ensure content was accurate and cohesive across our marketing channels.
The goal of the campaign was to increase sales by driving traffic to Sendik's online ordering site. From 2016 to 2017, the site received a 61.5% increase in unique visits.
Red Bag Rewards | Integrated Campaign
Sendik's launched its Red Bag Rewards loyalty program in October 2017. For this launch, I was responsible for creating a landing page, ongoing email communications, social media posts and internal marketing materials. I worked closely with the design team to ensure messaging was consistent across marketing channels.
The launch was successful in driving enrollment and generated a 131.4% increase in email leads.
Sendik's Social | Social Media Samples
I facilitate all aspects of social media management for Sendik's Facebook, Twitter and Instagram accounts. This includes maintaining a monthly content calendar that aligns with the company's social media strategy, writing posts in brand voice, developing engaging photo and video content, tracking performance, responding to guests and leveraging a monthly Facebook Advertising budget.
Since I began managing the Facebook account in November 2016, Sendik's following has increased by nearly 15% (or approximately 7,500 followers). Sendik's increased its social media advertising investment by over 400% from 2016 to 2017, resulting in a roughly 99.7% increase in overall engagement.
Sendik's Express | Email Campaigns
Sendik's Express is Sendik's online ordering, curbside pick up service. I work closely with the Marketing and New Business teams to create targeted email campaigns for Sendik's Express based on shopper behavior.
Above are a few samples of email campaigns, ranging from informational to promotional, that helped drive an increase in online sales from 2016 to 2017.
Sendik's Red Bag Weekly | Associate Newsletter
I write and design weekly internal newsletters, known as the Red Bag Weekly, for 1,900+ Sendik's associates. I work closely with the Human Resources and Operations teams to communicate important information related to associate events, perks and news.
As part of this task, I redesigned the newsletter to be responsive for a better mobile viewing experience in 2016. I maintain a schedule for content and create internal marketing materials such as table tents, letter signs and break room TV slides. Additionally, I assist associates with logging into the Associate Portal and manage associate subscriber information.
Artistry Ink | Web Development
I was contracted to develop this responsive site for Artistry Engraving & Embossing Co., Inc., a company in Chicago, Illinois. The site is built on the Twitter Bootstrap platform and also utilizes jQuery libraries and custom javascript.
Water Council | Motion Graphics
In this concept project, I created an animated informational video on Wisconsin's role in freshwater innovation, using The Water Council as my "client". On their website, The Water Council has a section called "Why Water," listing numerous facts and statistics on this subject. With these figures, I crafted a visual "story" that urges younger viewers (roughly 18-24) to join The Water Council in their mission to solve global water challenges
For this project, I shot video using a Canon T6i as well as a GoPro HERO4 Silver. Animated graphics were first created in Adobe Illustrator and then brought into Adobe After Effects. All effects were composited in Adobe After Effects.
Song: Slow Hours by Weird Inside
Arts + Tech Night | Poster Design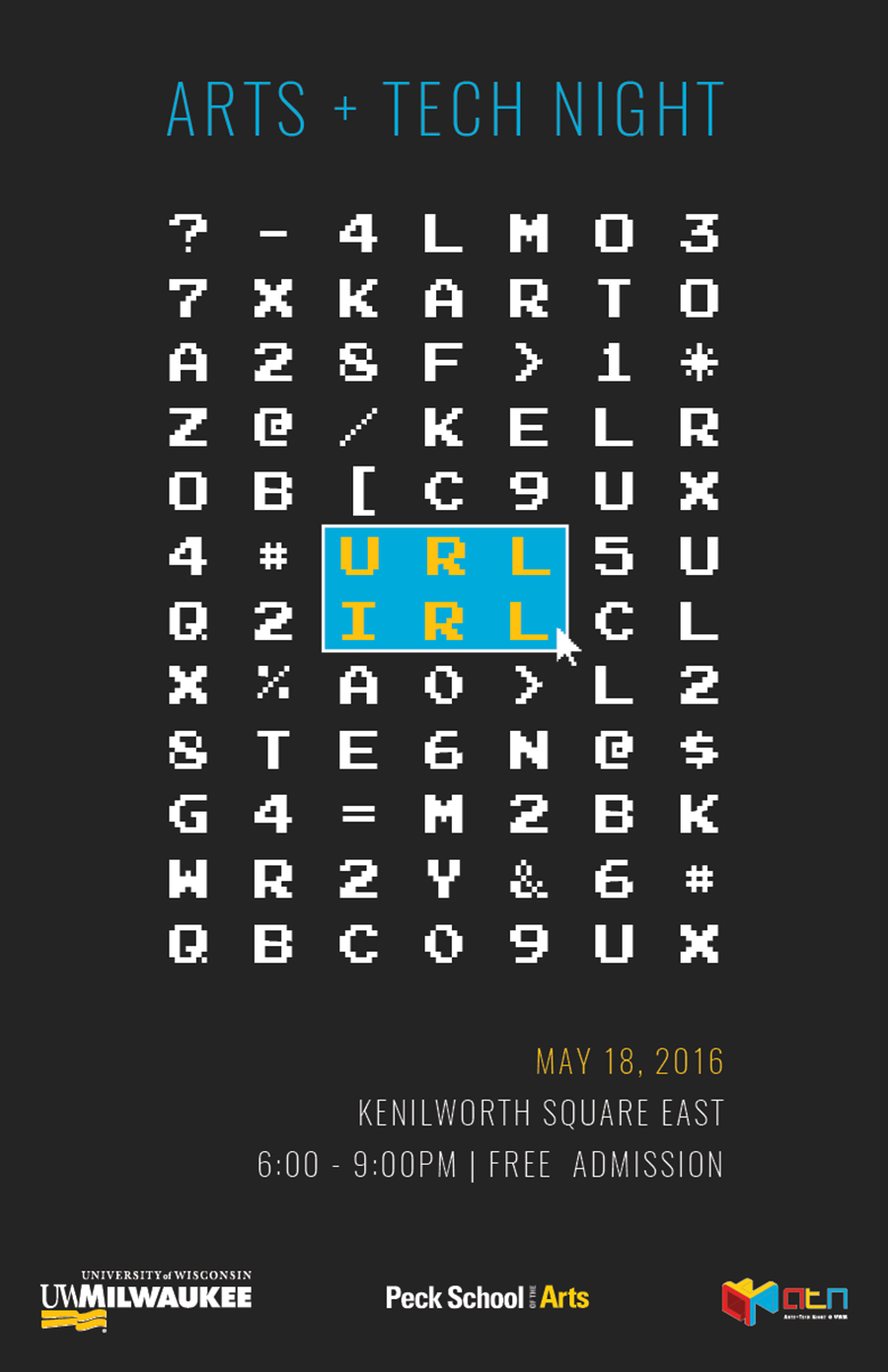 As a member of the UWM Arts + Tech Night planning committee, I was in charge of designing all marketing and promotional materials for the biannual student exhibition. Participating students proposed and voted for the name URL | IRL. While designing, I looked at early bitmap typography and graphics for inspiration.
DSP Course Guide | Booklet Design
I was commissioned to create this curriculum booklet for the Digital Studio Practice major at UW-Milwaukee. Throughout the design process, I met with the department faculty repeatedly to ensure the booklet would meet their needs and align with the guidelines and goals of the university. I worked with both faculty and students to source and edit appropriate images and text. I wanted the design to reflect the innovation and divergent thinking that characterizes Digital Studio Practice students. The booklet is currently being sent out to prospective students and will be placed on the UWM Art and Design website to promote the major.
Carousel | Motion Graphics
I created this kinetic typography lyric video to Carousel by Melanie Martinez using Adobe After Effects CC. I used vintage circus posters and paper cutout animations as my inspiration.
The MozzaMaker | Web Design + Brand Development
This website design presents information regarding my business idea for the UW-Milwaukee Student Startup Challenge, for which I was a 2015-2016 winner. My partner Becky Yoshikane and I pitched a tabletop kitchen appliance for making artisanal cheese at home. In the process of creating the website, I finalized decisions around our brand identity. The site is fully responsive utilizing the Bootstrap platform. We plan to use this site as a tool to present our project's progress to stakeholders.
Launch Demo Site
View Process Book
Fluid | Concept Site
Web Design + Brand Development
A complete redesign of the website and branding for a local Milwaukee LGBT+ bar, this concept project was an exercise in learning the Bootstrap platform. I utilized a contemporary rainbow color palette, illustrated icons, and modern fonts to target a younger demographic. The site is fully responsive using the Bootstrap platform, optimized for mobile, tablet, and desktop.
Launch Demo Site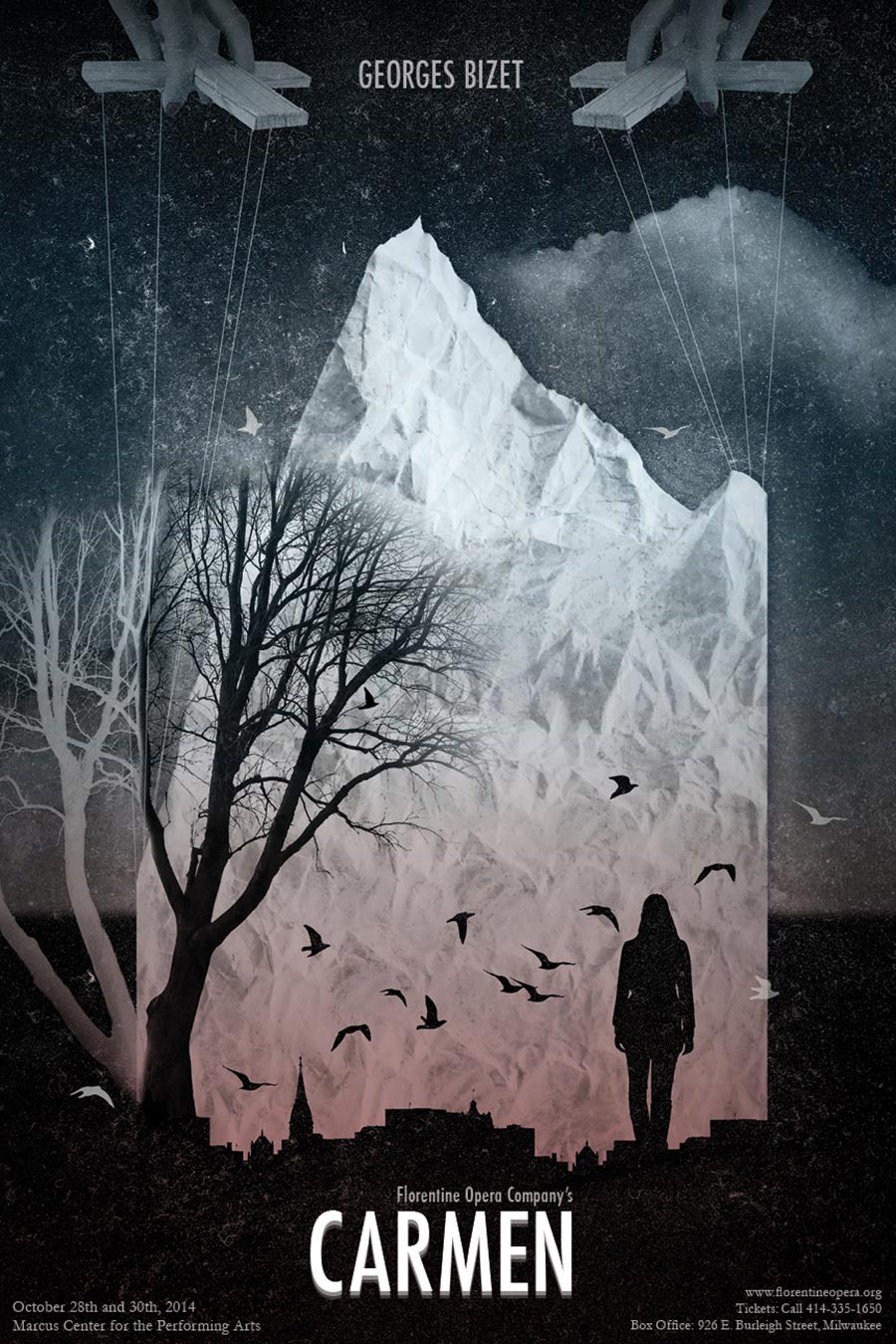 For this project, I created a modernized concept poster for the theatrical production Carmen. Using personally captured photographic images, I created a well-executed, surreal, and dramatic composite based on my research of the story. Allegorical imagery, such as puppeteer hands, portray the themes of Carmen in an unexpected manner. The design has an edge that connects to a younger demographic.
Mediascapes | Digital Prints
Mediascapes is a series of macroscopic photographs of computer screens captured by an iPhone in panorama mode. Through intentional destruction, including stretching and enlarging, individual pixels blur into painterly strokes and fields of color emerge as abstract landscapes with features such as horizons, mountains, and clouds. It is important to remember that digital spaces exist as part of the natural, physical world. Mediascapes aims to collapse needless boundaries between digitality and materiality, instead seeking an alternative understanding of media as material agents in, of, and as our environments.
Sighing Waves | Installation
How does the weather change our feelings?
How do the winds shape our love?
How do the tides take our breath away?
This work pulls real-time wind and wave data from a weather station in Southeast Milwaukee to dynamically control pre-recorded video of my boyfriend and I breathing. Based on the direction of the winds and periods of the waves, we breathe in and out at varying intervals, hold our breaths, fall in and out of sync. Fans are placed around the space, calling attention to relational currents between what we feel and our feelings.
At stake in Sighing Waves is a finer attunement to our own bodies as we relate to external, material forces and a greater awareness of the power and spontaneity in nonhuman agents such as weather and waves.
In this series, I stretch, enlarge, and resample individual pixels until they become abstract fields of color. Resembling hazy landscapes, the images' resolutions become so poor that digital artifacts begin to look like dots of paint – a mediation of the digital and the material.
Contact Me
I enjoy using my skills to execute both personal and client-based projects.
Let's grab coffee and build something together.
Get Started